Welcome to

Quality and complete customer satisfaction is our mission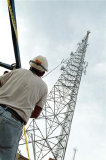 Strategic Technology Solutions, Inc. (STS) is a engineering, design and management company that provides civil, electrical and communications engineering, planning and design. We specialize in civil/site design, wireless infrastructure design, OSP Design, program/project and construction management. We approach each project uniquely to create breathable, highly skilled and experienced project teams tailored to each project. This approach affords significant cost savings while providing greater expertise. We believe that quality control is project specific and therefore, we have created easily customizable procedures, forms and processes to address your specific project needs.
Strategic Technology Solutions, Inc. was established to address the many specific civil, electrical and technology infrastructure needs of a diverse private and public array of clients. We have taken more than 33 years of significantly diverse civil, electrical, construction and technology experience in the public and private sectors, studied the successes as well as the troubled projects and created a very different approach to completing cost effective, time sensitive designs and project implementations.
We have taken our significantly diverse and extensive experience and created a constructibility review, independent cost estimating, owners representitive/project manager practice which helps our consulting clients produce incrementally more detailed and defined design packages for their clients and offers our owner clients a cost effective solution to independent cost estimating, owner representative and owner project manager services while supporting your WBE and/or DBE project goals.

Call Strategic Technology Solutions, Inc. to see how we can help your business effectively and efficiently achieve your goals
20 Hillside Lane
Duxbury, Ma. 02332
Tel: 781.536.8388
Designed and Created by STS
® Copyright 2010

Home Page | About Us | Services | Portfolio | Employment